The Antiquarian Rediscovery of the Antonine Wall
Keyword(s):
Roman Empire; Antoninus Pius; antiquarian record; Timothy Pont; William Camden; Sir Robert Sibbald; William Stukeley; Sir John Clerk of Penicuik; Alexander Gordon; John Horsley; General William Roy; John Buchanan; Robert Stuart
Location(s):
Scotland, UK
Period(s):
Roman Age; Middle Ages; 17th century; 18th century; 19th century; 20th century
Synopsis
The Antonine Wall has been visible as an upstanding earthwork across the central belt of Scotland since its construction by the Roman legions over 1,850 years ago, in the reign of the Roman emperor Antoninus Pius. This book takes up its story from the time of its abandonment in the reign of Marcus Aurelius and charts developments in our knowledge about it through the Middle Ages and after, up to the early years of the twentieth century, by which time the earliest scientific excavations had taken place.
The book is profusely illustrated with maps, portraits of prominent antiquaries and nineteenth-century watercolours.
Chapters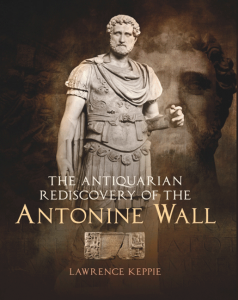 Copyright (c) 2023 Lawrence Keppie (Author)
This work is licensed under a Creative Commons Attribution-NonCommercial 4.0 International License.
Details about this monograph
ISBN-13 (15)
9781908332240
Date of first publication (11)
2012
Downloads
Download data is not yet available.