Portmahomack on Tarbat Ness: Changing Ideologies in North-East Scotland, Sixth to Sixteenth Century AD
Keyword(s):
Portmahomack; Scottish archaeology; cist burial; monastery; monastic cemetery; carved stone monuments; St Colman; church; early medieval sculpture; medieval township
Location(s):
Highlands, Scotland, UK
Period(s):
Iron Age; Pictish; Scotto-Norse; Medieval; post-medieval
Synopsis
Portmahomack on the Tarbat peninsula overlooking the Dornoch Firth is a fishing village with a 1,500-year-old history. In the sixth and seventh century it was a high-ranking centre with monumental cist burials and links to the equestrian class in England. In the eighth century it was a monastery, creating manuscripts and making church vessels and a stunning repertoire of carved stone monuments, its monks looking to Ireland, western Scotland and Northern England for their intellectual alliances. Around 800 AD the monastery came to an end following a Viking raid, but swiftly revived as a manufacturing and trading centre, now serving the protagonists of the Norse-Scottish wars. By the eleventh century the site was abandoned, but was remembered again in the early twelfth century when it became the parish church of St Colman. In the later middle ages it experienced an upsurge of activity with fishermen and metalsmiths settling beside an enlarged community church. When the Reformation arrived at Portmahomack about 1600, the village moved to the harbour and the old church of St Colman remained on its own, acting for another four hundred years as a weathervane of local society and its beliefs. Rediscovered by archaeologists in the 1980s, from 1994 to 2007 the site at Portmahomack saw one of the largest research excavations to have taken place in Scotland.
Reviews
"Martin Carver's ten-year programme of excavations at Portmahomack—the first large-scale investigation of an early medieval monastery in the kingdom of the Picts—has been in the vanguard of [Pictish archaeology] research, and the publication of the culminating monograph represents a major landmark in Pictish studies. […] Overall this is an expertly crafted volume that does full justice to the spectacular sequence of archaeology unearthed at Portmahomack. It will stand as an enduring legacy for the pioneering achievements of the underlying excavations, and serve as a vital guide for future studies of Pictish and medieval Scotland and the archaeology of Insular monasticism more generally." – Dr Gabor Thomas, Antiquity (vol. 91)
"In Portmahomack Professor Carver and his co-authors admirably discharge the first duties of archaeological writing: to put the new evidence before us, to give it context and to make us think about it…It is a 'must have' book for students of early medieval society in Britain and Ireland. – Jerry O'Sullivan, Journal of Irish Archaeology (vol. 26)
"This eagerly awaited volume presents the final results of a project that has already transformed our understanding of the origins and development of early medieval monasticism in Pictland. […] The authors are to be congratulated on a stunning achievement." – Tomás Ó Carragáin, The Antiquaries Journal (vol. 98)
Chapters
1 | The Late Iron Age, Pictish, Medieval and Later Settlement at Portmahomack

2 | Description of the Investigation

3 | The Outcome

4 | Foundations (Periods 0–1, to c AD 680)

5 The Pictish Monastery (Period 2, c AD 700 – c AD 800)

6 | Trading Farm (Period 3, c AD 800 – c AD 1100)

7 | Medieval Township (Period 4, c 1100 – c 1600)

8 | Connections

References

Digest 1 | Archaeological Interventions at Portmahomack

Digest 2 | Index of Periods, Structures and Churches

Digest 3 | Radiocarbon Dates

Digest 4 | Burials

Digest 5 | Catalogue of Sculpture

Digest 6 | Catalogue of Diagnostic Artefacts

Digest 7 | Ecology

Digest 8 | Monuments and Place-names on the Tarbat Peninsula

Digest 9 | Table of Contents of Online Archive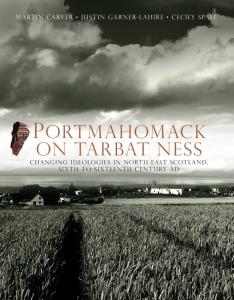 Copyright (c) 2016 Contributors
This work is licensed under a Creative Commons Attribution-NonCommercial 4.0 International License.
Details about this monograph
ISBN-13 (15)
9781908332165
Date of first publication (11)
2016
Downloads
Download data is not yet available.