Rhum: Mesolithic and Later Sites at Kinloch, Excavations 1984–86
Keyword(s):
bloodstone; lithic; blade; flake; flint; core; stone tool; scraper
Location(s):
Highland, Scotland, UK
Period(s):
Mesolithic; Neolithic; second millenium BC; third millenium BC
Synopsis
This volume is the report of the archaeological excavations that took place on the island of Rhum between 1984 and 1986. The text contains details of the stratigraphical remains on site, and in particular the large body of Mesolithic material recovered. It describes the methodology, detailed analyses of the artefactual assemblages as well as the environmental and geophysical studies that were carried out in conjunction with the excavations. A section on the use of raw materials in the west of Scotland takes the coverage beyond Rhum, and the final section presents an interpretation of the site in the early settlement of Scotland.
Detailed information relating to the methods and results of analyses and the full accounts of specialist work are included in microfiche scans at the end of the chapter list.
Chapters
Front matter

Introduction and notes to the volume

1 | The island background and the discovery of the site

2 | The excavation

strategy and techniques

3 | The excavation

results

4 | The lithic assemblage

raw materials

5 | The lithic assemblage

definitions and composition

6 | The lithic assemblage

primary technology

7 | The lithic assemblage

secondary technology

8 | The lithic assemblage

use and deposition

9 | Other small finds

coarse stone tools, pottery, pumice, and bone

10 | The radiocarbon determinations

11 | The postglacial environment

12 | Site formation processes

13 | The use of bloodstone as a raw material for flaked stone tools in the west of Scotland

14 | Interpretation and context

References

Index

Microfiche section 1

Microfiche section 2

Microfiche section 3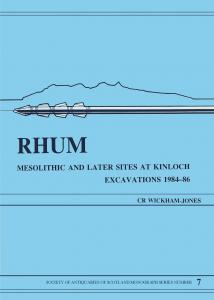 Published
November 11, 2022
Copyright (c) 2022 Caroline R Wickham-Jones and the individual contributors
This work is licensed under a Creative Commons Attribution-NonCommercial 4.0 International License.
Details about this monograph
ISBN-13 (15)
9781908332295
Date of first publication (11)
1990
Downloads
Download data is not yet available.