Darkness Visible: The Sculptor's Cave, Covesea, from the Bronze Age to the Picts
Keyword(s):
Pictish symbols; human remains; cave archaeology; mummification; decapitation; funerary rites; ritual
Location(s):
Moray, Scotland, UK
Period(s):
Late Bronze Age; Iron Age; Roman Iron Age; early medieval
Synopsis
The Sculptor's Cave is one of the most enigmatic prehistoric sites in Britain. Excavated in the 1920s and 1970s, new analysis of the archive has revealed a complex history of funerary and ritual activity from the Late Bronze Age to the Roman Iron Age. Using innovative methods and new techniques, this volume re-examines the results of earlier excavations and places the site in its wider British and European context.
***
Winner of the Saltire Society Scottish Research Book of the Year 2021
***
Armit and Büster's handsomely produced volume transports us back in time to both the late Bronze Age and Roman Iron Age, revealing exciting new evidence for the treatment of the dead in both periods.
– Professor Gordon Noble (Current Archaeology, 2021 'Darkness Visible: the Sculptor's Cave, Covesea, from the Bronze Age to the Picts')
 ***
Darkness Visible is a valuable guide to a remarkable cave.
– Professor Benjamin Hudson (Scotia: Interdisciplinary Journal of Scottish Studies XLIV: 2022)
***
Chapters
Front matter

1 | The Sculptor's Cave

a place apart

2 | Excavation results

3 | The Pictish and later carvings

4 | Chronology

archaeology, radiocarbon dating and Bayesian modelling

5 | The finds

6 | Human remains

7 | Environment, economy and subsistence

8 | Caves, cosmology and identity

Appendix 1

Appendix 2

References

Index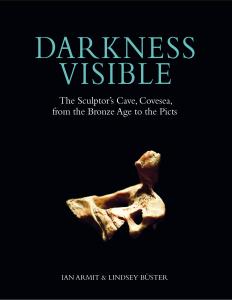 Copyright (c) 2022 Ian Armit, Lindsey Büster and the individual contributors
This work is licensed under a Creative Commons Attribution-NonCommercial 4.0 International License.
Details about this monograph
ISBN-13 (15)
9781908332233
Date of first publication (11)
2020
Downloads
Download data is not yet available.