'Remember Now Thy Creator': Scottish Girls' Samplers, 1700–1872
Keyword(s):
embroidery; sampler; education; Edinburgh; Glasgow; London; pattern; alphabet; stitch
Location(s):
Scotland, UK
Synopsis
Embroidered samplers show the one aspect of girls' education that leaves the most lasting and tangible memorial of that part of their lives. This book considers samplers made in Scotland; it aims to situate them within the social context of the period and to examine their role in the education of girls. The time span covers the first emergence of a specific Scottish style and ends with the introduction of the 1872 Education (Scotland) Act, which made schooling a local government responsibility and led eventually to downplaying the importance of sampler making. Girls in Scotland made samplers within a general British tradition, but some designs appear to have developed that are specifically Scottish, such as the use of red and green alphabets.
***
Many questions […] are raised in this magnificent volume and the author's analysis of the different elements in the samplers is superbly illustrated by the 121 full coloured plates. This is a very important volume for helping our understanding of the history behind these labours of love that some of us are privileged to own.
– Barbara Crawford (The Antiquaries Journal)
Remember Now Thy Creator certainly achieves Tarrant's stated aim of showing how fascinating these samplers are as windows onto the social, religious, political and gendered history of Scotland.
– Sally Tuckett (Journal of Scottish Historical Studies)
***
Chapters
Front matter

Introduction | What is a sampler?

1 | Scottish samplers

2 | Samplers in the schoolroom

education for girls

3 | Plain sewing samplers

4 | The elements of embroidered samplers

5 | Distinctive features of embroidered samplers

6 | Designs embroidered on Scottish samplers

7 | Tracing the girls

8 | Conclusion

Appendix 1 | Hollie point samplers

Appendix 2 | Verses on samplers and their sources

Appendix 3 | Reproduction samplers

Appendix 4 | Public collections with Scottish samplers

Notes

Bibliography

Index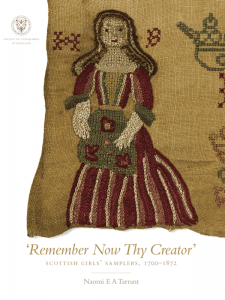 Copyright (c) 2022 Naomi E A Tarrant
This work is licensed under a Creative Commons Attribution-NonCommercial 4.0 International License.
Details about this monograph
ISBN-13 (15)
9781908332271
Date of first publication (11)
2014
Downloads
Download data is not yet available.