The Fortification of the Firth of Forth 1880–1977: 'The most powerful naval fortress in the British Empire'
Keyword(s):
Military history; Military; Naval; Coast Defence; Submarine Mining; Anti-Submarine Defence; Fortification
Location(s):
Firth of Forth, East Lothian, City of Edinburgh, West Lothian, Stirlingshire, Fife, Scotland, UK
Period(s):
19th century; 20th century; Modern; First World War; Second World War
Synopsis
The Fortification of the Firth of Forth describes the story of the great Forth Fortress from 1880 to 1977, when the final traditional defensive capabilities were abandoned. The authors combine archival sources with new fieldwork and oral histories to not only describe what was built, but when and why.
This meticulously researched, richly illustrated volume relates the defences in the Forth to the wider political and military context and also describes the human side of the defences: the men and women who manned the fortress. This is a fascinating resource for those interested in Scottish military and naval history, and conflict and battlefield archaeology.
***
A seamless study of an area long significant in naval history. […] The authors address a clearly defined but multi-faceted subject with perception, authority, and panache. Anyone with interests connected in any way with the subject will learn much by reading this volume.'
– Robert J C Mowat, International Journal of Nautical Archaeology (volume 48)
'[The authors] have to be congratulated on putting together a massive amount of research with informative text and numerous plans, charts and photographs. This book is a 'must have' for those interested in the recent archaeology, military or local history of this area.'
– Douglas Gray, Kinghorn Chronicle
Chapters
Front matter

1 | The Forth

2 | The naming of parts

3 | France and Russia

4 | The German threat, 1903–14

5 | The First World War, 1914–19

6 | Much ado about nothing, 1919–38

7 | The Second World War, 1938–45

8 | Growing irrelevance, 1945–77

9 | The inner defences

(Carlingnose Fire Command; Fire Command (Inner); 21 (Forth) Fire Command)

10 | The middle defences

(Inchcolm Fire Command/ 20 (Forth) Fire Command)

11 | The outer defences

(Inchkeith Fire Command/19 (Forth) Fire Command)

12 | The outermost defences

13 | Conclusion

Annex | List of Canmore numbers

References

Index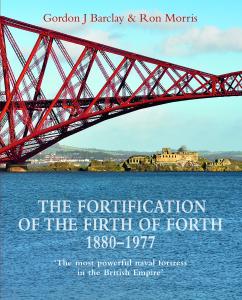 Published
January 14, 2022
Copyright (c) 2022 Gordon J Barclay, Ron Morris (Author)
This work is licensed under a Creative Commons Attribution-NonCommercial 4.0 International License.
Details about this monograph
ISBN-13 (15)
9781908332264
Date of first publication (11)
2019
Downloads
Download data is not yet available.