Bearsden: A Roman Fort on the Antonine Wall
Keyword(s):
Bearsden; fort annexe; bath-house; latrine; Antonine Wall; bioarchaeology; Romans in Scotland; Roman fort
Location(s):
Bearsden, Scotland, UK
Period(s):
Roman Scotland
Synopsis
The demolition of Victorian villas in the 1970s led to an excavation of a Roman fort at Bearsden, near Glasgow, on the Antonine Wall, and the discovery of a Roman bath-house and latrine.
The bath-house is the tip of an archaeological iceberg. Over ten seasons a substantial portion of the Roman fort was examined and its history traced. Of particular importance was the discovery of sewage from the latrine which provided intimate details about the life of the soldiers at Bearsden, including their diet and hygiene.
The excavations were led by the principal author of this report, Professor David Breeze, formerly Chief Inspector of Ancient Monuments for Scotland. Over thirty-five specialists have contributed.
***
[Bearsden] is a splendid and comprehensive publication that has greatly benefited from recent developments in analytical techniques, particularly in relation to bioarchaeological remains and artefactual evidence.
– Penelope Allison, Antiquity (issue 356)
[David Breeze] has now brought this project to completion with aplomb. The result is beautifully produced and thorough – now a rarity in excavation reports.
– Martin Millett, British Archaeology
This is what we should all be aiming for in terms of sheer quality, impact and readability.
– Jacqueline Cahill Wilson, The Journal of Irish Archaeology (volume XXV)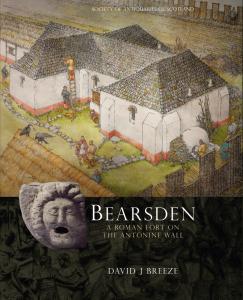 Copyright (c) 2016 David Breeze (Author)
This work is licensed under a Creative Commons Attribution-NonCommercial 4.0 International License.
Details about this monograph
ISBN-13 (15)
9781908332189
Date of first publication (11)
2016
Downloads
Download data is not yet available.