The Traprain Law Environs Project: Fieldwork and Excavations 2000–2004
Keyword(s):
Settlement pattern; Enclosure; Geophysical survey; Material culture; Roman contacts
Location(s):
East Bearford, Foster Law, Haddington, Knowes, Standingstone, Whittinghame, East Linton, East Lothian, Scotland
Period(s):
Later Prehistoric; Bronze Age; Early Iron Age; Middle Iron Age
Synopsis
This volume presents the results of fieldwork on the East Lothian coastal plain in south-east Scotland investigating the nature later prehistoric settlement around the hillfort of Traprain Law. Following geomagnetic surveys at thirty sites, six enclosures were excavated, three extensively. All six had complex occupation histories, involving multiple acts of enclosure, as well as phases of open settlement and use for other purposes such as burial. Their combined chronological span extends from the fourth millennium BC to the dawn of the Early Historic period.
The four curvilinear enclosures were apparently constructed in the later second or early first millennium BC. The short-lived hillslope enclosure at Standingstone occupied the site of an earlier Bronze Age burial ground and open settlement. At Whittingehame, a later scoop within a ravine-edge enclosure was still a focus of agricultural activity as late as the sixth century AD. The two rectilinear enclosures were foundations of the later Iron Age, although a scooped settlement within the site at Knowes was inhabited well into the Roman Iron Age.
Thanks to these excavations and the wider studies of the cropmark record and material culture from East Lothian presented here, we can now begin to reconstruct settlement dynamic in the Traprain Law area and relate this to the sequence of activity on the hilltop between the second millennium BC and the mid-first millennium AD.
***
This collaborative programme of research represents an exemplary landmark, and all involved deserve support and congratulation.
– Dennis W Harding (Antiquity)
***
Canmore ID 56406 – East Bearford
Canmore ID 56215 – East Linton
Canmore ID 56438 – Standingstone
Chapters
Front matter

1 | Introduction

2 | Survey in the Traprain Law Environs Project area

3 | Excavations at Whittingehame Tower

4 | Excavations at Standingstone

5 | Excavations at Knowes

6 | The evaluations at East Bearford, Foster Law and East Linton

7 | The Material Remains

8 | Environment and subsistence economy

the charred and waterlogged plant remains and animal bones

9 | Absolute Dating

10 | The Traprain environs in a regional perspective

11 | Characterising the Traprain Law environs

some reflections

Appendix 1

Cropmark evidence and geophysical survey: a comparison of results from sites investigated by the TLEP

Appendix 2

Recent works on 'stray finds' of Roman objects in East Lothian

Bibliography

Index

Plates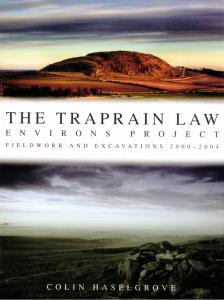 Copyright (c) 2023 Colin Haselgrove and the individual contributors
This work is licensed under a Creative Commons Attribution-NonCommercial 4.0 International License.
Details about this monograph
ISBN-13 (15)
9781908332301
Date of first publication (11)
2009
Downloads
Download data is not yet available.